21 December 2020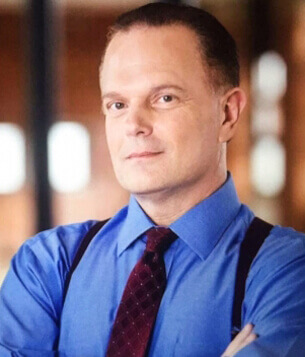 Dan Ribacoff is the Founder and CEO of International Investigative Group. He is an expert private investigator and is one of the top polygraph examiners in the world. He is also a TV personality as the polygraph examiner for The Steve Wilkos Show and has made appearances conducting polygraphs on numerous TV shows, such as Impractical Jokers, Brain Games, and many more. In addition to this, he is an award-winning author for his novel, I Spy, How to be your own Private Investigator.
Biography
Dan Ribacoff was born in Belo Horizonte, Brazil in 1959. As an infant, his family moved to the United States, living in New York City. After graduating from Forest Hills High School, Ribacoff went into the the family diamond business, but found his true passion in law enforcement when serving as an auxiliary police officer for the city of New York. In 1990, he founded the International Investigative Group, Ltd. and later founded his polygraph company, Indepth Polygraphs. He still runs both companies as the acting CEO to this day. He currently resides in Long Island, New York and Boca Raton, Florida with his wife.
Private Investigator
Dan Ribacoff and the International Investigative Group have been ranked as one of the top 15 investigators in the United States. Ribacoff and his firm have solved over 10,000 cases in their 30-year tenure. Some of the biggest include the recovery of the Hudson Truck Robbery, in which $8.1 million was recovered (the second largest recovery in US history) and a technical investigation and trial preparation of the World Trade Center bombing in 1993. The private investigation work of Dan Ribacoff and his expert team has been featured on CNN, Inside Edition, The Dr. Oz Show, and Good Day New York.
Polygraph Examiner
When it comes to polygraphs, Dan Ribacoff is simply the best in the business. With extensive polygraph training from the Marston Polygraph Academy, the United States Department of Defense, and the American Polygraph Association, he was educated and trained in the utilization of Analog, Lafayette, Axciton and Limestone Technologies Computer Polygraph hardware.
Dan Ribacoff's polygraph work has put countless murderers, rapists, and thieves behind bars and has also cleared the names of countless more innocent people who were falsely accused. Because of his extensive and excellent work in conducting polygraphs for 18b and Criminal Justice Act Federal Court matters, he was named Man of the Year by the NYPD Honor Legion in 1991; an honor he shares with many well-respected individuals, including Senator John McCain, Mayor Gulianai, and Mayor Koch.
Television
As a TV personality, Dan Ribacoff is most famous for his role as the polygraph examiner on The Steve Wilkos Show since the show started in 2007. His extensive knowledge, professionalism, and witty one-liners when appearing on camera are what have made him the most desired and respected polygraph examiner in show-business. He has also made appearances on The Today Show, Brain Games, Basketball Wives, and delivered this hysterical punishment to Murr on Impractical Jokers:
In addition to his numerous guest-appearances, Dan Ribacoff had his own show in Europe for a brief period of time, The Lie Detective. In this reality show, Ribacoff would sit down with couples or ex-couples and have them ask a series of questions to each other while they were hooked up to a polygraph machine. For the first time, these people were 100% honest with each other.
Author
In 2016, Dan Ribacoff released his novel, I Spy, How to be your own Private Investigator. A quick and easy read, the book covers how to conduct surveillance, lie detection, background checks, and even how to disappear off the grid. In addition to his advice and "how-to's", Ribacoff includes real stories from his time in the field. With this book, you will be able to do basic investigations on your own and be more aware of your surroundings.
If you need professional assistance for any type of corporate/private investigation, physical security, or cyber security, do not hesitate to contact us at hello@iigpi.com, or at (212) 987-0808